الجزء الاول من اجابات شهاده مهارات جوجل Google Digital Garage Final Exam Answers 2019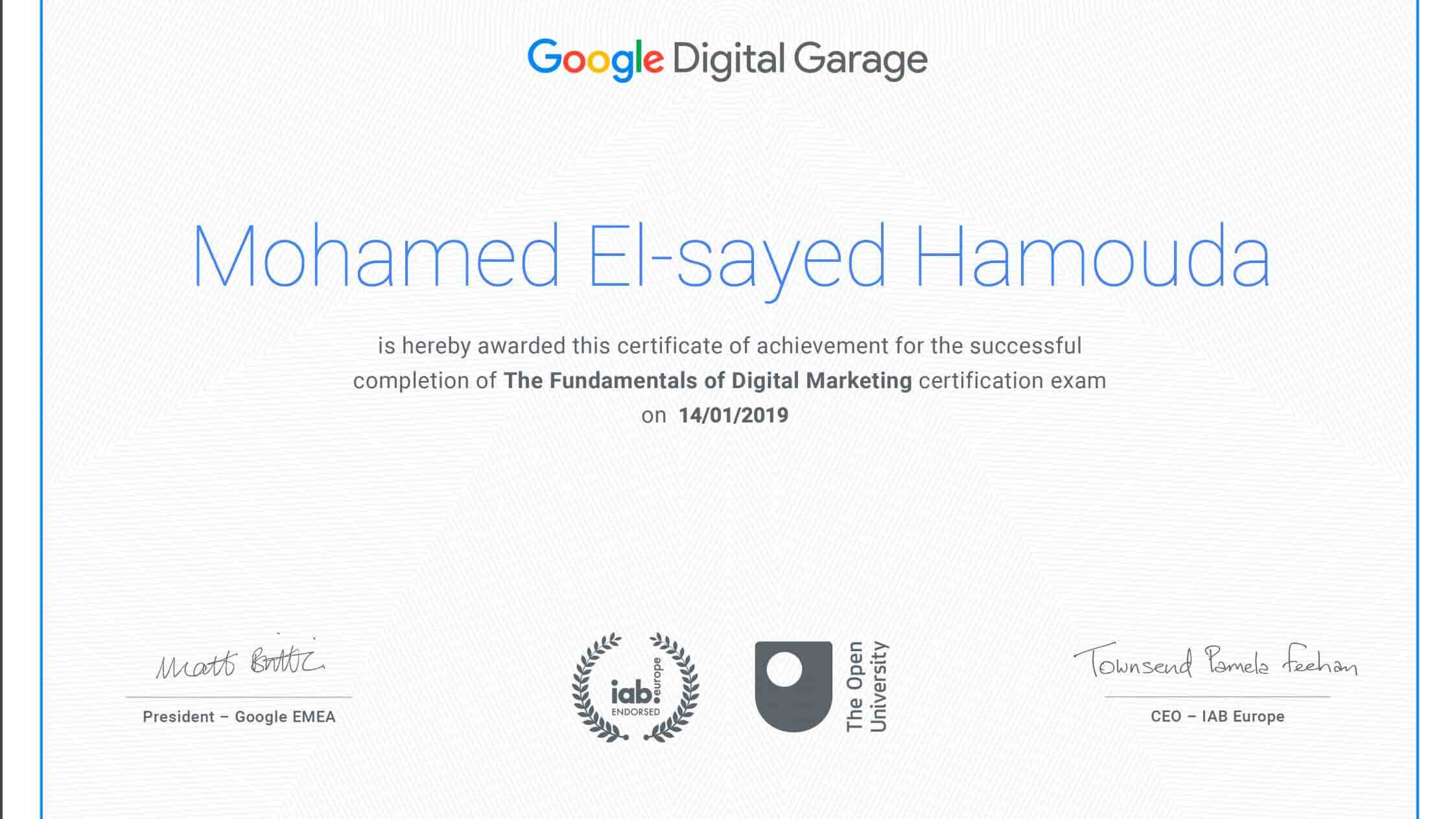 في هذا المقال سوف تجد اجابات لمتحان مهارات جوجل

لسهوله الحصول علي الاجابه استخدم البحث في البيدج
control +f




ثم اجذ السؤال كوبي ووضعه في البحث 


part twoرابط الجزء الثاني من الاجابات
What's The Biggest Challenge For Most Businesses When Going Online?
Web Analytics Can Tell You Many Things About Your Online Performance, But What Can Analytics Tools Not Tell You?
Where your customers go after leaving your website
Website Hosting Servers Have Their Own Unique IP Address, What Does This Address Consist Of?
When Defining A Strategy For Your Business, How Can Competitor Analysis Help You Establish A USP (Or Unique Selling Point)?
It can identify how your offering is different in comparison to your competitors
You Notice That When People See Images Of Your Products Online, You Have An Increase In Conversions Or Sales. Which Customer Touchpoint Could You Use To Take Advantage Of This Insight?
How Can Businesses Benefit From Using Analytics On Their Website?
It will show you where your audience comes from
Websites Are Hosted On A Server And Each Of These Servers Has Its Own Unique IP Address. What Does The 'IP' Stand For?
When Designing Content As Part Of Your Content Marketing Strategy, What Does The 'Think' Stage Represent In The 'See, Think, Do, Care' Framework?
The consideration phase, when customers start to research potential products to buy
Which Are The First Steps You Should Consider When Constructing An Online Business Strategy?
Create goals and identify a USP
Where Does The Domain Name Of A Website Primarily Sit?
Fill The Blank: When Managing SEM Campaigns, The Best Way To Optimise Your Quality Score Is To Improve The _________ Of Your Keywords, Adverts, And Landing Pages.
Which Of The Following Will Be Achieved By Including An Offer In A Search Engine Marketing (SEM) Ad?
It will help the ad stand out and encourage people to click it
There Are Many Ways You Can Improve The Performance Of A Website From An SEO Perspective. When It Comes To Link Building Which Of The Following Statements Is Accurate?
The quality of links is important, not the quantity
Gaining Backlinks To Your Website Is A Great Way To Improve The SEO Performance. What Best Practice Will Encourage People To Link Back To Your Site?
Write some great content they will find useful
When Looking To Optimise The Performance Of A Website To Improve Its Search Engine Ranking, Using 'Long Tail Keyword Terms' In Your SEO Plan Often Allows You To…
When Using A Search Engine, What Is The Name Of A Word Or Phrase Somebody Types To Find Something Online?
What Is The Term We Use To Describe How Search Engines Categorise Each Piece Of Content?
Imagine A Customer Has Downloaded An App Made By Their Local Hardware Store. How Could That Business Connect With Their Audience Through The App?
Send them offers when they enter a certain geographical area

When Looking To Advertise A New Business Online, What Is One Of The Major Benefits Of Display Ads?
They can come in many different formats
When You're Building A Business Website, What Purpose Does A Server Have?
When Considering Whether To Have A Web Presence For Your Business, Which Of The Following Is Not A Major Factor?
How long you've been in business
When Planning Your Website, What Is One Of The Key Things You Should Consider?
What you want your customers to do on the site
Which Of The Following Is A Benefit Of Search Engine Marketing (SEM)?
Reach out to potential customers actively looking for your product or service
A Lot Of Factors Can Affect How Well A Website Will Rank On Search Engines. What Role Does Metadata Have In This Process?
Provides search engines with more consistent and clear information about what's on the website
When Ranking Websites On Search Engine Results Pages, Which Element Of A Website Do Search Engines Value The Most?
Unique, engaging, relevant content
What's The First Step In The Search Engine Optimisation Process For Your Website?
What Is The Most Important Thing To Consider When Optimising A Search Engine Marketing Campaign?
Increasing the relevance of the keywords, ads, and landing page
What Can You Achieve If You Divide Your Search Engine Marketing Account Into Relevant Campaigns And Ad Groups?
Ensure people see relevant ads that relate to their search query
When Advertising Using Search Engine Marketing (SEM), You Only Pay…
when your ad is clicked by someone
When Advertising On Search Engines, If You Bid The Same As Your Competitor, Having A Higher Quality Score Will Mean You Appear Where In Comparison?
When Optimising A Website For Search, What Impact Do Meta And Title Tags Have On The Search Engine?
They are embedded messages that help the search engine determine what's on the page
When Optimising A Website For Search, What Impact Do Meta And Title Tags Have On The Search Engine?
They are embedded messages that help the search engine determine what's on the page
When Looking To Increase The Presence Of A Website, Putting Together Your Search Engine Optimisation Plan Will Help You Plan Your Steps. Which Activity Would Be First On The List?
Search Engines See The Content On A Website As Written Code, How Can You Help Search Engines Identify The Images On Your Website?
Give them descriptive names
When Running A Search Engine Marketing Campaign, What Goal Do You Expect To Achieve By Having Conversion Tracking On Your Site?
To understand what is working and what is not
When Fine-Tuning Paid Search Ads, You Change A Broad-Match Keyword To A Phrase-Match Keyword Using Which Symbol?
Fill The Blank: When It Comes To Promoting A Business Locally, Search Engines Can _______________ Your Business In The Search Results Page If The User Is Near Your Location.
When Trying To Promote Your Business Locally, What Three Key Bits Of Information Should Be Present In Your Directory Listing?
Business name, address, phone number
To Improve Your Website's SEO Performance, When Should You Consider Updating Your SEO Plan?
When you add a new service or product
Google Search Console "Crawl" Reports Let You Monitor…?
If Google can view your web pages
Which Search Query Would Trigger An Ad Based On This Keyword: [London Portrait Photographer]?
London portrait photographer
We Use Them Every Day, But What Is The Overall Purpose Of A Search Engine?
To help the user find the most relevant answer to their query
What Are Three Key Considerations When Evaluating Keywords For Search Engine Optimisation?
Frequency, competition, relevance
Fill The Blank: 'Search Engines _________ The Internet To Discover Content.'
Fill The Blank: When Optimising SEM Campaigns, Negative Keywords _________ Your Ads From Appearing When People Search For Things That Aren't Relevant To Your Business.
If You Want To Track A Completed Order In Your Website, What Would Be A Proper Place To Add The Conversion Tracking Code?
"Because Online Attention Spans Are Shorter, A Great Hook Or Opening Sentence Is Important To Draw People In." What Is This A Best Practice Example Of?
Writing engaging online copy
When Designing Mobile Advertising Campaigns, What Is A Best Practice To Identify Which Keywords To Target?
Use the Google Keyword research tool or Bing Keyword research tool
When Building A Website For A Business, What Type Of Design Should It Have In Order To Be "Mobile Friendly"?
When Looking To Promote A Business On Social Media, What Is A Good Way To Grow Your Social Media Following Or Engagement Quickly?
Why Is It Important To Reach Customers On Their Mobiles When Advertising Locally?
People use their phones while they are on the go
Fill In The Blank: When Search Engines Use Factors Like Geolocation, IP Address And Location Based Search Terms To Produce Geographically Tailored Results, This Is Called _____________.
When Looking To Create Video Content For Your Marketing Strategy, What Three Best Practices Should You Look To Include?
Short, relevant, include a call to action
Mobile Apps Are A Great Tool To Engage With Customers On The Go. What Is One Of The Major Benefits Of A Mobile App Over A Website?
Apps allow you to send push notifications
When It Comes To Knowing Which Social Media Platforms To Focus Your Efforts On, How Can You Work Out Which One Will Work Best For You?
Use online analytics tools to measure engagement
Using Social Media For Business Purposes Can Be Very Different To Running Personal Profiles. If You're Looking To Attract People To Your Social Network, What Tone Of Voice Should You Consider?
Which Of The Following Tools Could Be Used To Gain An Insight Into The Phrases And Questions People Search For About A Given Subject Online?
Mobile Advertising Is A Great Tool For Marketers, But All That Good Work Could Be Undone If Your Website Isn't What?
Optimised for different devices
With More And More Users Using Mobile To Look At Websites, It Is Key That You Optimise Your Site So Users Can Find It When Searching Online. Which Two Elements Should You Look To Optimise For Improved SEO Performance?
Which Of The Following Actions Would Be Most Effective For A Business To Take In Order To Help Them Progress Towards Achieving Their Content Marketing Goals?
Refining their content marketing strategy as they go, taking into account available data and metrics
When It Comes To Mobile, How Would You Define Usability?
The visitor's experience on your site
When Looking To Promote Your Products And Services Locally, What Are The Benefits Of Using Search Engine Ads?
You can target ads to a specific geographic area
When Looking To Get Noticed Locally Online, What Information Should You Ensure Is On Your Website As A Minimum?
Your physical location details
Which Of The Following Is A Core Benefit That Content Marketing Can Bring To A Business's Online Presence?
It can improve sales by directing more traffic to your website
What Type Of Tool Can Be Used To Monitor And Evaluate Your Social Media Audience's Actions On Your Website?
Why Is Social Media A Great Tool For Your Business To Build Trust And Engagement With Your Audience?
You can share honest reviews about your product or service
Which Form Of Targeting Would You Use To Display Ads To People Who Have Previously Visited Your Website?
Retargeting